Kerio Connect 9.0 improves business email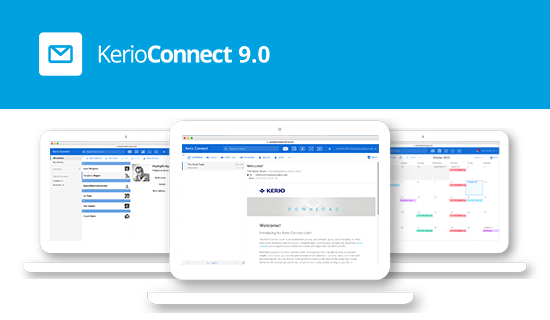 Kerio Connect 9.0 improves business email with time saving capabilities and enhanced user experience
San Jose, Calif, November 18, 2015 – Today Kerio Technologies released Kerio Connect 9.0, enhancing its messaging and collaboration solution with time saving productivity aids, including more one-click workflows, faster processing for moving or deleting multiple emails, a new user design and remote server upgrades.
"In this release we're continuing to help small and mid-sized businesses manage their email with flexible filtering rules, remote server upgrades and more," said Heather Paunet, VP Products. "We've also refreshed the Kerio Connect Client and made significant interaction design improvements to advance the user experience and overall performance."
Kerio Connect 9.0 supports requirements for common business processes including archiving and compliance through new server based filtering, providing flexibility and enhanced functionality for administrators to efficiently route email. It is now even easier to redirect all email in instances such as when an employee leaves a company or if there is a requirement to send copies of emails to another mailbox.
The improved Kerio Connect Client features a new toolbar for all views (email, calendar, contacts, tasks and notes) and a static message menu bar, ensuring action options stay in view when scrolling down the page. The user experience is also enhanced with a new popup event editor, information panel in calendars and a new interface for tasks and notes.
Administrators can now remotely perform server upgrades from any browser, making it a simple, fast and easy action to run in the background and they can enable support for IPv6.
With deployment options for Windows, Mac OS X, Linux, and VMware, Kerio Connect 9.0 is ready to run in virtually any Cloud or on-premises environment. Cloud-hosted Kerio Connect is available from Kerio partners worldwide. On-premises Kerio Connect starts at $465 for five users. For more information, please visit: www.kerio.com/connect.